---
A selection of articles from past newsletters published by the Mineralogical Society of Tasmania.
---
Adapted and updated from an Article published in Mineralogical Society of Tasmania Newsletter #8, 1994,

by Steve Sorrell & Ralph Bottrill.

Introduction

A number of interesting skarn assemblages exist in altered Ordovician Gordon Limestones at the Kara Mine, near Hampshire, Northwest Tasmania. The skarns occupy a trough-like pendant within late Devonian red granite known as the Housetop Granite. At the Kara No.1, ore-grade scheelite mineralisation forms an irregularly-shaped blanket draped 15-25m above the granite. Between the skarn and the granite is a tungsten-poor, quartz-epidote reaction zone (Turner, 1990).

Open pit mining of scheelite has been in progress since 1977 (Whitehead, 1990).but magnetite is presently of more major economic importance. Limestone Creek, north of Kara No. 1, has been investigated as a wollastonite resource.

Minerals

Actinolite

Felted green mats, some replacing diopside crystals, grading into tremolite and possibly hornblende or other amphiboles.

Allanite

Minor amounts are recorded in the associated granite (Turner, 1990).

Andradite

Excellent lustrous crystals, to ~70 mm (but mostly <1 cm) in calcite or in vughs in massive andradite skarn. Colours range from very pale yellow, green, red, brown and black. Forms are a combination of rhombic dodecahedron and a trapezohedron.

Anorthite

This plagioclase feldspar occurs as the almost pure end-member (Microprobe analyses give An70-100: Bacon & Bottrill, 1988), as small grains with wollastonite and calcite in the Limestone Creek skarn.

Anthoinite

A rare tungstate mineral, occuring as a white powdery mixture with mpororoite, pseudomorphing scheelite in weathered skarn (Matsubara & Kato, 1984)

Bavenite

This rare calcium beryllium silicate occurs as small sprays of transparent colourless crystals with a thomsonite-like habit, in cavities associated with fluorite, pyrite and epidote.

Biotite

Recorded in the associated granite (Turner, 1990).

Calcite

As crystals in a variety of habits including: short hexagonal prisms; long hexagonal prisms with flat terminations; long hexagonal prisms with pyramidal terminations. Also as vein infillings in magnetite: white to clear, some with bright pink long-wave fluorescence; golden openings to mamillary surfaces in cavities.

Chalcopyrite

In fine grains in vesuvianite and pyrite bearing skarn.

Danalite

Uncommon as cherry red octahedral crystals and grains in magnetite-actinolite-fluorite skarn, rarely to a few cm across.

Diopside

Recorded by Turner (1990). Largely altered to actinolite-tremolite. Grades into hedenbergite?.

Epidote

Transparent, small lustrous green crystals with andradite

Fluorapatite

Minor amounts recorded in the associated granite (Turner, 1990).

Fluorapophyllite?

May occur as small glassy crystals in cavities - needs confirmation.

Fluorite

Clear to deep purple octahedrons to 5mm occur in cavities with epidote, pyrite, ?actinolite, and bavenite. Also as druzy secondary colourless octahedral microcrystals in the same cavities. As pink to purple octahedrons enclosed in calcite. Also recorded as minor amounts in the associated granite (Turner, 1990).

Halloysite

Light brown and earthy, in weathered skarn (Matsubara & Kato, 1984)

Hedenbergite

Probably grades into diopside (qv).

Hornblende?

Black fibrous amphibole crystals, actual species not yet determined (Hastingsite?), in granite and skarn.

Hydrozincite?

Fibrous whitish with ?rosasite

Magnetite

Black massive, bright crystals including octahedra and dodecahedra, mostly dull crystals to 20mm. Also recorded as minor amounts in the associated granite (Turner, 1990).

Malachite

As blue-green to bright green botryoidal aggregates, spheroids and rosettes.

Molybdenite

Small rosettes and flakes in skarn.

Montmorillonite

Yellowish green and earthy in "the old trench" (Matsubara & Kato) and other weathered skarns.

Mpororoite

Another rare tungstate, this occurs as a white powdery mixture with Anthoinite pseudomorphing scheelite in skarn (Matsubara & Kato, 1984)

Orthoclase

This feldspar is abundant in the associated granite (Turner, 1990).

Plagioclase group

Andesine-Oligoclase (~An30) was recorded in the associated granite (Turner, 1990). Small grains in wollastonite skarns in Limestone Creek.vary from albite (An0) to anorthite (An100)

Prehnite??

May occur as pale green botryoidal coatings - to be confirmed.

Pyrite

As small cubes & cube-octahedra in skarn

Quartz

Recorded in the associated granite (Turner, 1990). Present in radiating white crystal aggregates with calcite and diopside(?).

Rosasite??

Blue-green spheroids and rosettes - to be confirmed

Scheelite

Mainly as white blebs in magnetite to a few cm across. Rare pseudoctahdral crystals occur.

Stolzite

Rare tabular to blocky orange-yellow crystals replacing scheelite in andradite skarn.

Titanite

Crystals not dissolved when calcite etched, suspected to be titanite (F. Doedens, pers. comm.). Also recorded as minor amounts in the associated granite (Turner, 1990).

Tremolite

See actinolite.

Vesuvianite

Recorded in the skarns by Turner (1990) and confirmed by XRD.

Wollastonite

Abundant in Limestone Creek skarns (Bacon & Bottrill, 1988).

Zircon

Minor amounts recorded in the associated granite (Turner, 1990).

References

Bacon, C.A., & Bottrill, R.S., 1988. Industrial Minerals in Tasmania: Wollastonite. Tas. Dept. Mines Unpub. Rept. 1988/29

Bottrill, R.S., in prep. The Kara Mine, Tasmania

Matsubara, S. & Kato, A., 1984, Mpororoite & Anthoinite from the Kara Mine, Tasmania, Mineralogical Magazine, 48, 397-400

Turner, N.J., 1990, Kara Scheelite-Magnetite Deposit - Geology, in: Turner, N.J. & Taheri, J. (eds.) 10th Australian Geological Convention, Hobart 1990, Excursion Guide E2, "Tin & Tungsten Deposits & Related Devonian Granitoids", Geological Survey of Australia, p. 25-29

Whitehead, C.,1990, Kara Scheelite-Magnetite Deposit - Production and deposits, , in: Turner, N.J. & Taheri, J. (eds.) 10th Australian Geological Convention, Hobart 1990, Excursion Guide E2, "Tin & Tungsten Deposits & Related Devonian Granitoids", Geological Survey of Australia, p. 24-25

Back to Contents
---
Adapted from an Article published in Mineralogical Society of Tasmania Newsletter #10, 1994, by Ralph Bottrill.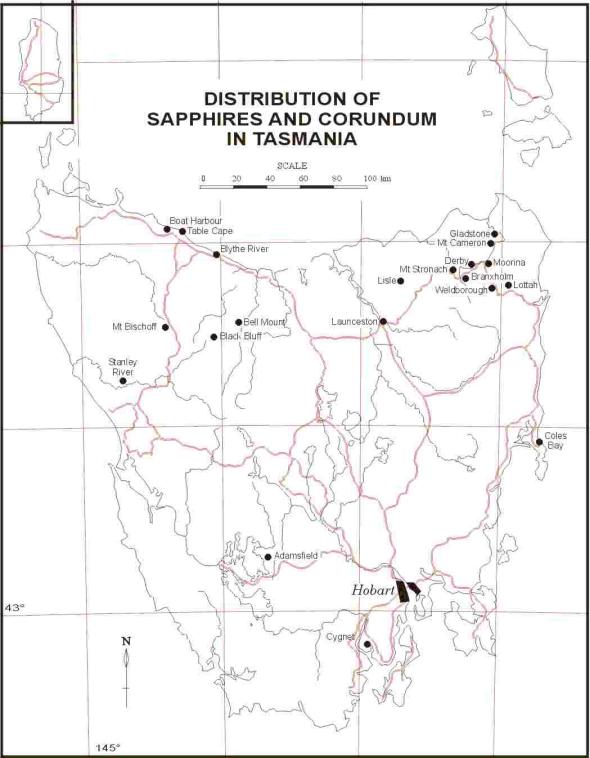 >
Introduction
Two principal types of corundum occurrence are known in Tasmania: gem sapphires in various alluvial deposits, and finer grained rock-forming corundum in situ in granite-related deposits in the Mt Read Volcanics. These occurrences are described further below.
Sapphires
Sapphires are a gem variety of corundum (Al2O3). The name was originally intended only for stones with a blue colour, but is now used for stones of any colour except red (usually designated as the variety ruby), and including green, yellow and purple. The colours are mostly due to varying proportions of iron and titanium or, in the case of ruby, traces of chromium, in the crystal lattice. The most common colour, dark blue, is rich in titanium and iron; with decreasing titanium the colours tend towards green and yellow (Deer et al., 1962). During cooling, excess amounts of titanium may exsolve as very fine, oriented needles of rutile, producing an attractive asterism known as "star sapphire", usually in dark blue stones.

Sapphires are widely distributed in eastern Australia and South East Asia, in a belt extending from Tasmania through central and eastern Victoria, northeastern NSW, eastern Queensland, Thailand, Kampuchea, Vietnam and southern China (Tasmania Department of Mines, 1970; Stone, 1976; Coenraads et al., 1990; Robertson & Sutherland, 1992). Most of the stones have been recovered from alluvials, usually associated with zircon, pleonaste spinel and ilmenite. The sapphires are usually closely associated with Tertiary alkaline basalt (basanite, nephelinite, etc.) which occur as flows, plugs and pyroclastics. The sapphire has been found as corroded megacrysts in these basalts, along with numerous xenoliths (including metasediments, granulite, granite, anorthosite, pyroxenite, lherzolite, etc.) and other xenocrysts (including zircon, spinel and anorthoclase) (Coenraads et al., 1990, Robertson & Sutherland, 1992). The major primary host rock in central Queensland is thought to be the associated pyroclastics, bringing corundum and other phases rapidly to the surface from a possible nepheline syenite source rock at pressures >10 kbars (>35 km depth; Robertson & Sutherland, 1992).

Diamond is a rarer associate and may have the same source, but be somewhat earlier in age than the sapphires (Robertson & Sutherland, 1992).
Sapphires in Tasmania
Sapphires in Tasmania occur in many areas, particularly the northeastern tinfields, usually associated with relatively coarse grained red-brown zircon and black pleonaste spinel. Other areas include the Boat Harbour - Sisters Creek area, Blythe River, Table Cape, Bell Mount, Lisle, Stanley River, Adamsfield, Coles Bay and Launceston (Tasmania Department of Mines, 1970; W.L. Mathews, pers. comm.; Fig. 1). The stones are typically a dark blue, but range from yellow to green and purple, and some are part-coloured. Star sapphires have been recorded in several areas. The largest recorded stone is a 52.8 g (264 carats) parti-coloured stone from the Weld River area, but most are much smaller (Tasmania Department of Mines, 1970; W.L. Mathews, pers. comm.). Most of the stones were found in sediments that originating in areas of Tertiary basalt, with the exception of the Adamsfield and Stanley river occurrences. In these areas much of the country is highly eroded and dissected, and basalts may not have survived. Alternatively, small plugs may not have been recognised in these relatively inaccessible areas.

In the northeastern tinfields the main occurrences are at Branxholm, Derby, Gladstone, Lottah, Main Creek, Moorina, Mt Stronach, Mt Cameron, Thomas Plain and in particular the Weldborough - Weld River area (Tasmania Department of Mines, 1970; W.L. Mathews, pers. comm., Fig. 2). Cassiterite and topaz are typically associated, but are unlikely to have the same source. Tertiary basalt is present in the Ringarooma River valley and as isolated remnants at higher level, such as the Weldborough Pass, at the headwaters of the Weld River. In this basaltic remnant can be seen a pumiceous breccia dome, suggestive of an eruptive centre, overlain by massive basalt flows containing xenoliths of anorthoclasite and sanidinite. These rocks may relate to those at the sapphire occurrences in Queensland (Robertson & Sutherland, 1992).
Corundum-bearing Rocks
Unusual corundum bearing rocks have been identified in several small outcrops, one km west of the Lea River/Fall River Junction, near Moina, Tasmania. The dyke-like bodies occur within the Bond Range porphyry and Back Creek Beds, of the Cambrian Mt Read Volcanics, and appear to cross-cut the stratigraphy (Pemberton & Vicary, 1989).

The rocks contain fine to medium grained blue corundum with quartz, muscovite, kaolinite, pyrophyllite, feldspar and andalusite. Textures indicate disequilibrium and a possible two stage process: alteration of quartz porphyry by low temperature, acidic granitic fluids to kaolinite - diaspore - quartz, and rapid heating by high temperature, boiling granitic fluids to a metastable corundum - andalusite assemblage (Bottrill & Pemberton, in press). The corundum observed by the author does not appear to be of gem quality.
Other corundum occurrences
A mafic, mica and hornblende bearing dyke cutting granodiorite in the Lisle valley was described as corundum-bearing by Thureau (1882) and probably represents one of the widespread Devonian and Cretaceous lamprophyres in Tasmania. Corundum is also a probable constituent of skarn (magnesite - serpentine - pyrrhotite) assemblages in altered dolomites intruded by Devonian tin-bearing porphyries and greisens in the Mt Bischoff Tin Mines (Groves et al., 1973; Kwak,1987). Ford (1984) described corundum inclusions in porphyries at Cygnet. The gem variety ruby has also been reported rarely from the tin workings in the northeastern Tasmania, but has not been confirmed (Tasmania Department of Mines, 1970).
Summary
Corundum is very widespread in Tasmania, mostly in the form of sapphire grains in alluvial deposits. This is probably related to the occurrence of similar material throughout eastern Australia and South East Asia. The corundum is thought to have been formed in nepheline syenites or similar rocks at great depth, and be brought to the surface rapidly in pyroclastic eruptions of alkaline basalts, which are usually closely associated. Another type of occurrence in Tasmania may be relevant as a possible source rock: the formation of corundum in argillised silicic volcanics, probably by rapid dehydration accompanying boiling granitic fluids.
Bibliography: available on request

Back to Contents
---
Adapted from an Article published in Mineralogical Society of Tasmania Newsletter #5, 1993,
by John Richmond & Ralph Bottrill.
Geological Notes
The major rock type present here is a basalt, a fine grained plagioclase-pyroxene-olivine bearing volcanic rock common in Tasmania, here of late Tertiary age (~ 10-20 million years). There is also an old stream channel exposed, filled with clayey sand and gravel. The basalt contains abundant columnar jointing in diverse orientations suggesting that the original surface was very irregular and the volvanic vents were probably close by. The lava probably flowed down the old Jordan River into the Derwent Valley, to about Claremont. The basalt is vesicular in part (particularly near the top), and these vesicles (frozen gas bubbles) commonly contain interesting minerals. Zeolites are notably lacking, perhaps due to insufficient depth of burial and/or low groundwater temperatures and/or unsuitable fluid compositions; they are commonly found at deeper levels than exposed here.
Minerals
AragoniteThis occurs as small to large, attractive, lustrous prismatic crystals, colourless or white to pale violet coloured; also fibrous-massive, colourless to pale brown veinlets.

Barite

Occurs as attractive groups of colourless, bladed crystals to about 5 mm, with calcite.

Calcite

Attractive spheroids and botryoidal aggregates to about 15 mm diameter, white or banded to pale green and brown.

Ilmenite

Small black crystals lining vesicles.

Montmorillonite-nontronite

Massive, blue, green and black.

Opal

Black, massive.

Plagioclase Feldspar

Fine white crystals lining vesicles.

Quartz

Small drusy surfaces and chalcedony.

Siderite

Botryoidal, brown aggregates.

Back to Contents

---

An Article by Carl Bjorklund - Published 09/08/96 Mineralogical Society of Tasmania Newsletter

Silver is a native metallic element with the chemical symbol Ag from the Latin argentum.

Physical Properties

Colour: silver/white on fresh surfaces, tarnishing to grey and black.
Hardness: 2.5-3
Specific Gravity: 9.6-12 (10.5 when pure).
Lustre: metallic
Transparency: opaque
Cleavage: none
Fracture: hackly
Streak: glossy silver-white
Malleable, ductile and sectile

Crystal System

Cubic, but rarely distinct
Forms: crystals, dendrites, wires, plates, sheets and compact masses.
Crystals occur as indistinct cubes, hexahedra and octahedra.

Genesis

In oxidised zones of hydrothermal sulphide veins. Supergene, in some sulphide deposits. Rarely in basalts and dolerites, except in the notable occurrence in the Keeweenaw Peninsular, Michigan (see below). Also in some sedimentary deposits.

Notable locations

Schneeberg, Saxony, Germany, where wires up to 40 cm long have been found. Also at Freiberg and Schwarzwald in Germany.
Kongsberg in Norway has, since 1624 produced more than 1,350 tonnes of native silver from approximately 300 mines.
At Jachymov in Czechoslovakia, wires up to 30 cm have been found.
In Southern Arizona a piece of native silver weighing 1350 kg was found.
In Cobalt, Gowganda & O'Brien in Ontario, silver is obtained in sheets, slabs and irregular masses many centimetres across (<612 kg).
In Michigan on the Keeweenaw Peninsular, beautiful specimens of crystalline silver have been found associated with native coper.

Silver Islet in Ontario presented one of the 19th Century's most difficult mining challenges, due to rich veins extending below water level.
Since the discovery by the Spanish of vein deposits at Batopilas in Chihuahua, Mexico, seven times the total amount of silver produced at Kongsberg has been mined. Most of this silver occurs as wires, crystals and herringbone crystal groups.
Silver wire specimens have been produced from mines at Broken Hill and Elura (near Cobar) in NSW.
In Tasmania native silver has been recorded from the Magnet, Godkin, Whyte River and South Curtain Davis Mines. The state's finest examples were from the Hercules Mine, Mt Read, where silver wires was associated with masses of crystalline cerussite.

Uses

As a precious metal. Used in minting, jewellery, medicine, chemistry, photography, electronics.

Back to Contents
---
An article by Ralph Bottrill - published 21/11/96

Nature: Barite (Barium sulphate, BaSO4) is a relatively common mineral, belonging to the barite group of orthorhombic sulphates (with anglesite and celestite). It may contain large amounts of strontium grading into celestite) and minor calcium and lead.

Name: Barite derives from the Greek "baros": baros: heavy, in allusion to its high specific gravity. It was described (from an unknown locality) as "baryt" by Karsten in 1800, and "baryte" by Hauy in 1801, but was anglicised by Dana in 1868. Before 1800 it had been known at least as early as 1640 (as " Lapis Bononiensis", famous for its phosphorescence, and Hepatite and other names).

Description & diagnostics: Barite may be colourless to white, yellow, red, brown, blue, pink and other pale colours; transparent to translucent. Hardness: 3-3.5; S.G: 4.5; lustre vitreous to resinous and pearly. It is brittle with three cleavages, one very strong and two at right angles. It may be massive, concretionary to crystalline. The crystals are variable in form, from platey to bladed, blocky and prismatic, as shown below. The platey crystals may occur as groups known as desert roses, which may be full of sand inclusions. The mineral is identified by its high S.G., pale colour, distinctive cleavage and crystal forms, and the flame colour (green, compared with red for the similar celestite).

Occurrence: Mostly in hydrothermal veins, also as concretions in sediments, in hot spring deposits, in Pb/Zn/Cu deposits, vesicular basalts and other rock types. Associates include calcite, quartz, fluorite, galena, sphalerite, chalcopyrite, pyrite, and oxidised Pb and Cu minerals.

Uses: Mostly mined for use in drilling mud, also for chemicals, medicinal uses, cosmetics, pigments and fillers. It is important for colouring fireworks and was used by Bengalese Priests for colouring fire.

Localities: (numerous)
Europe: Germany, Romania, Czechoslovakia, France
England: Cumberland, Derbyshire, Northumberland, Westmoreland
USA: Colorado, Connecticut, Illinios, South Dakota, California
Australia: South Australia (var.), Mt Isa, Broken Hill, Victoria
Tasmania: Cremorne, Bridgewater, Queenstown, Rosebery, Rossarden.

Back to Contents
---

Back to Contents
---
"Click" here to email editor of the Tasmanian Society Newsletter